THE ULTIMATE
PERSONAL SAFETY KIT
FOR WOMEN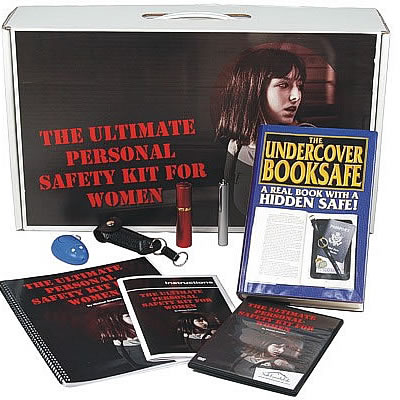 SUGGESTED RETAIL PRICE $99.00
The Safe Family Life Ultimate Personal Safety Kit For Women (very long name for a very great product) is specifically designed to keep women safe while at home or out and about. From the book diversion safe for hiding valuables, to the pepper sprays for personal protection as well as the personal alarm and the electronic whistle.

Included also is a manual with instructions for each product in the kit as well as a DVD that demonstrates how each product is to be used.


Your Ultimate Personal Safety Kit For Women
Includes The Following:
1/2 oz Pepper Spray With Leatherette Holster (1)


Lipstick Pepper Spray (1)


Diversion Safe (1)


Electronic Pocket Whistle (1)


130dB Personal Alarm With Light (1)


All Batteries Included


Instruction Manual
And That's Not All...

You'll Also Receive 6 Special Safety Reports
Safe Dating


Self Defense Techniques


Stay Safe When Traveling


What To Do If You Are Stopped By The Police


What You Should Know About Sexual & Domestic Assault
These reports are designed with the safety and security of women in mind and are a great resource for exactly that; making our lives safer and more secure.
PLUS...... A DVD For Product Instruction
Each product is demonstrated for you. This is the quickest way for you to learn how to use the products safely.
For more information on the products
and how to use them, you can view the manual
Womens Safety Kit Instructions.