HOMESAFE® WIRELESS HOME SECURITY SYSTEM
Say ADIOS to ADT and BON VOYAGE to Bay Alarm. HOMESAFE® WIRELESS HOME SECURITY SYSTEM does it all for a fraction of the cost.


With the HOMESAFE® WIRELESS HOME SECURITY SYSTEM,
you can have a security system without the high price
of those other guys.
An alarm system does not have to be costly to be effective
and now you have a means of protecting either your home
or office with these affordable products from HOMESAFE®.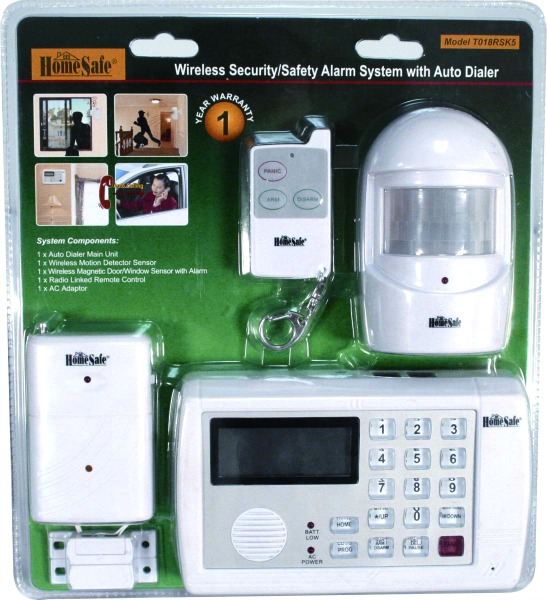 This security system is easy to install and easy to operate.

An alarm will sound when either motion is detected or when a window or a door has been opened. It will then dial up to 5 preset phone numbers of your choice to let you know when motion has been detected in any of these areas. A land line with tone dialing is required for use with this
system.

HERE IS HOW IT WORKS
When the door or window sensor is triggered or when the
motion detector is triggered, an alarm will sound and also
send a signal to the base unit.
The base unit will then dial the first number on your
program.
The person answering this call will hear a prerecorded
alert message.
This person can then listen in on the room and either
broadcast their voice through the base unit or disarm the system.
If there is no answer at this first number dialed or if
this person does not disarm the system, it will automatically
dial the next number that has been programmed.



HOMESAFE

®

SYSTEM INCLUDES
1 Base Unit with AC Adaptor
1 Windor/Door Sensor with wireless transmission up to 250 feet
1 Motion Detector detects motion up to 96 feet.

1 Remote Control for Arm/Disarm feature.
The remote control also has a 'Panic' button.


This Remote Control with Panic Button is a great feature for someone who may be living alone such as an elderly parent, a relative or perhaps someone with health issues. This will work much like the LIFEALERT program but again, at a fraction of the cost.

You can add up to 14 additional sensors, either Motion Detector's
or Window/Door Sensors giving your home or office complete coverage.

Additional Remote Control's are also available for purchase.


HOMESAFE

®

SYSTEM FEATURES



Detects motion in room and/or door or window opening which
activates the auto-dialer and alarm. Door/window wireless
transmission up to 250 feet. Motion detector range of 8 yards.

A 16 Digit Large number display with date/time and function icon.
9 zone icons to easily determine the intruder's location
Ability to monitor the room and broadcast by telephone function
Remote turn on/off function to ARM or DISARM by telephone
A programmable security code feature with entry delay timing
Holds 5 emergency telephone numbers, up to 32 digits each
A 5-Trigger recorder with zone indication for alarm mode
A DEL/PAUSE key
A PANIC key
A PROG key
Built-in 20 second Voice REC/Play Back IC for help message
Built-in flash memory to protect system data for power failure

Battery Low Indicator
DTMF (Dual Tone Multi-Funtion) Tone dialing. Land line only
Home mode function
Trigger AC socket by radio linked function

AC adaptor operated (included) with a 9V battery back-up (not included)
Wall mountable

HOMESAFE® WIRELESS
HOME SECURITY SYSTEM
PART# HA-SYSTEM
$119.95

---
AND REMEMBER, YOU CAN ADD UP TO 14

ADDITIONAL SENSORS TO YOUR SYSTEM

---









The Motion Detector Sensor can detect motion up to 8 meters with a 110 degree angle of detection.

The radio frequency range allows it to function up to 300 feet from the base unit.

WIRELESS HOME SECURITY MOTION DETECTOR

PART# HA-MOTION
$24.95






The Door/Window Sensor is a double sensor. It detects vibration as well as the opening of the door or window.


The radio frequency range is 300 feet. When triggered it will activate the alarm. Uses one 9 volt battery (not included).

Easily protect every window and door in your home.

WIRELESS HOME SECURITY SENSOR

PART# HA-SENSOR
$24.95






Additional Remote Control's are also available

PART# HA-REMOTE
$15.50







ALL HOMESAFE® PRODUCTS
COME WITH A 1 YEAR WARRANTY